This post assumes that you have read part 1 of working with Dark energy. (Breathing in and the Effects of Dark energy. For simplicity's sake, from now on I'm calling this series ''Working with Dark Energy'' with added parts to specific points and areas.
Before doing any of the meditations in the ''Working with Dark Energy'' series BE SURE that you want to go through with the Vampiric rituals also read through all of the currently released parts before starting the meditations.
Part 1:
http://wamphryshadows.forumotion.com/t1267-working-with-dark-energy-part-1-breathing-in-and-the-effects-of-dark-energy
Part 3:
http://wamphryshadows.forumotion.com/t1284-working-with-dark-energy-part-3-making-dark-energy-temporarily-inactive
Part 4:
http://wamphryshadows.forumotion.com/t1289-working-with-dark-energy-part-4-visual-representation-of-dark-energy#6489
--
I want to state that anyone wanting to go into dark should heed that working with Dark energy
(DE)
is not an alternative to Light energy,
(LE)
meaning that you'd still have to work with light energy to advance yourself. Dark is just a transition phase to get used to it and eventually going through with the Nosferatu pact or other means of vampiric rituals. If you have no intention to go through with the vampiric rituals then I would strongly suggest you not work with Dark at all and just stick with Light. Although I cannot stop you from taking a ''test drive''.
After this post, I will add another part on how to function TEMPORARILY with light and Dark at the same time.
Making Dark sort of... inactive and docile for however long you need, but remember this is only for those who are serious about the vampiric rituals here on this webpage. Handling Light and Dark at the same time is not as easy as it seems and requires quite a bit of focus. The purpose for this is slowly adapting to Dark whilst still advancing with Light, because as we all know the soul needs light to advance. But in making the Dark docile you can adjust at your own speeds. This also means you can give yourself breathing room should the Dark get too much at one point. More about that in part 3.
--
Now that you've been working with dark, again I must say that all of this information is gathered by my own experience, knowledge gathered from various sources and the wonderful guidance received from The Gods. Since there is no ''official'' guide for this, your experiences may differ. I will of course help in any way I can to the best of my knowledge and ability, should it be needed.
This warning was also posted in part 1 and will be done so here.
Working with Dark energy is advanced and you should know what you are doing. Meaning you know how to direct energy, control energy, work with energy, breathing in energy. You should also be adept at working with your aura. Visualization should be average as well. There is a somewhat uncomfortable transition phase if you come to Dark energy after working with Light for an extended period of time. With the addition of part 2, ''Chakras and Aura Cleaning'' By now you are somewhat familiar with Dark.

If you jump head first into this and get hurt, that's on you. I do not hold any responsibility should you get hurt due to lack of knowledge.
Working with Dark Energy – Part 2: Chakras and Aura Cleaning
Working With Chakras
Working and empowering chakras when Dark is active is relatively straightforward and simple. Here I will share my own experiences of cleaning the chakras and empowering
YOU DO NOT want to breathe in the Dark energy (Dark smoke and liquid as said in part 1) into any of your chakras.
The chakras are light, the chakras need light.
As you visualize the chakras, bottom line, you want to keep them as they are. With Dark when visualizing chakras, you want to see a chakra - let's say here the 3rd chakra - solar plexus pointing down like it's supposed to and visualize it as a sun in the middle of a black void. A single source of light in the middle of black. If you go into a basement or somewhere where it's pitch black and you were to throw a glowstick on the floor, it would be like that, although I saw that the light did not ''spread'' around the chakra.
This picture of a candle sort of shows what I mean. It's alight, but since there is nowhere for the light to reflect onto, then the light is contained within the chakra.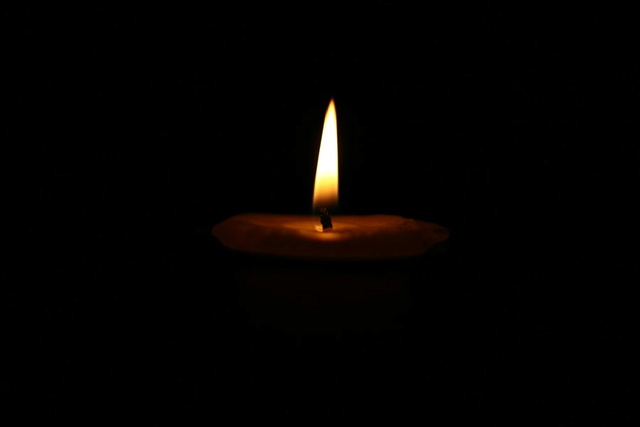 This is what it's like with all the chakras, major, minor and also various other points of power, for example clairaudience centers and the 3rd eye, shoulder extensions, etc. Just a source of light contained within itself in the middle of the void.
As for empowering the chakras, use what you feel is comfortable. Be it either runic vibrations, necronamicon vibrations. Just go with what 'feels' right. If there is any discomfort at all when vibrating a specific chakra opening then simply try something else. I personally went with the necronomicon vibrations for the chakra openings end empowerment's. Seemed kind of fitting...
I also found that vibrating sun mantras (SURYAE) was a bit uncomfortable. This goes with Light
(gold)
energy all together. Breathing in gold when Dark is active can be uncomfortable and even hurt.
Now contrary to what I've said you can actually use Dark energies very own light.
When working with Light energy you use white/gold. I found that Dark reacts very well to blue flame, purple light
(see the ether for reference)
and red light. So I can breathe in blue flame, purple light and red light with relative ease, although I found myself wanting to balance it out with more Dark. As breathing in even those lights and not breathing in equal amounts of dark seemed to throw me off balance and made me feel uncomfortable.
--
Aura Cleaning with Dark
For aura cleaning, there is a few ways you can do so just go with what feels correct. The main ones I used were these two:
You start with your crown chakra, you meditate on it and feel it. Once you can see it well and feel it well. Draw in dark energy into your body and you put it on the sides of the crown chakra.
So if the crown chara would be illustrated by this letter
'V'
then you would put the Dark energy on the sides of it like this:
'( V )'
Start spinning the dark energy around the crown chakra. While it's spinning you draw all negative energy and influences from the crown chakra into the Dark that is spinning around. Make it spin FAST. You do that for as long as you feel you need and stop spinning when you feel the crown chakra is clean.
Now, move the same dark energy around your 6th chakra. After cleaning the 6th, proceed to it's extensions, front and back.
(you do not breathe in any more Dark)
and repeat. Do so all the way down to your base chakra, also shoulder extensions and all those minor chakras.
When you're done, direct the dark energy – now filled with all the negativity collected from the base chakra,
you should end up here
– to your feet and out of your feet. This may take a while. I found that the easiest is to direct the energy out of my heels.
Float the Dark energy in front of you and proceed to burn it to ash with black flame. It should only take a few seconds, but take your time as we are all in different levels of advancement.
Then burn the ashes into nothingness.
(Personally after burning the ashes I banish the area of energy that was in front of me away, so to be sure that all negativity is banished. This may just be one of my personal little quirks and may not be a requirement).
After doing the above breathe in ''Fresh'' Dark energy into your being and ''replace'' the current Dark energies in your body. This method of breathing in fresh Dark is also very handy when you are short on time.
As for other methods of aura cleaning, you can
try
to utilize blue flame, purple or red energy to clean as well. Like you do with Light. Do not take my word on this though as I have not used this method of cleaning much, I always used the main one above.
--
Chakra spinning with Dark is the same as with Light.
--
Aura of Protection (AoP) with Dark.
This is simply done by breathing in a TON of Dark and then using whatever affirmation's you like to use use when you do the AoP with Light.
One example of an affirmation for Dark energy AoP, Before breathing in Dark you state:
''I'm breathing in positive Dark energy''
Then you breathe in as much Dark as you feel needed.
When finished with the inhales affirm and visualize:
''I have breathed in positive Dark energy. This energy has build a powerful aura of protection around me and has empowered my current aura of protection. In a positive way for me, this aura protects me at all times in every way.''.
You can, of course, create your own affirmation, this is just the one I personally used.
I also added an additional layer of either blue flame or red light OUTSIDE my Dark aura of protection as a sort of added layer. You can also look into this.
--
Remember, Dark energy is not an alternative replacement to Light.
As far as I've found anyway. This is simply Dark Meditation which is done before you commence with the Nosferatu pact, etc.
In part 3 I will show how to make Dark inactive so you can keep on advancing whilst keeping the Dark in you. This means that a week or so before you do the Nosferatu pact you can ''activate'' the Dark again and get the necessary forces you require in you needed for the ritual.