Before doing any of the meditations in the ''Working with Dark Energy'' series BE SURE that you want to go through with the Vampiric rituals also read through all of the currently released parts before starting the meditations.
Part 1:
http://wamphryshadows.forumotion.com/t1267-working-with-dark-energy-part-1-breathing-in-and-the-effects-of-dark-energy
Part 2:
http://wamphryshadows.forumotion.com/t1269-working-with-dark-energy-part-2-chakras-and-aura-cleaning
Part 4:
http://wamphryshadows.forumotion.com/t1289-working-with-dark-energy-part-4-visual-representation-of-dark-energy#6489
IF YOU DO NOT HAVE ANY INTENTION OF GOING THROUGH WITH THE VAMPIRE RITUALS(S) THEN STAY AWAY FROM DARK ENERGY ALL TOGETHER. If you are not certain what you want to do then doing this might just end up with you getting hurt.
All of this information is gathered by my own experience, knowledge gathered from various sources and the wonderful guidance received from The Gods. Since there is no ''official'' guide for this, your experiences may differ. I will of course help in any way I can to the best of my knowledge and ability, should it be needed.
Working with Dark energy is advanced and you should know what you are doing. Meaning you know how to direct energy, control energy, work with energy, breathing in energy. You should also be adept at working with your aura. Visualization should be average as well. There is a somewhat uncomfortable transition phase if you come to Dark energy after working with Light for an extended period of time.

If you jump head first into this and get hurt, that's on you. I do not hold any responsibility should you get hurt due to lack of knowledge. THIS IS NOT A JOKE!
--
How to make Dark energy Inactive
TEMPORARILY
. This will give you breathing room if needed or if you decide to put  Dark on hold for whatever reason, but keep in mind that keeping Dark inactive does not mean that it is gone for good, there will still be some side-effects and the personality traits you received from it will still be there.
*EDIT 8th of July:
Do not take it lightly. Keeping Dark energy bottled up really sucks. I mean
REALLY
sucks. This should not be done unless you know exactly why you want to work with light and it is not needed to compress the dark into yourself as preparation for The Pact but I just put this on here for those who feel that they need it.
*
Look at the Dark energy around you and inside you. Then state the affirmation:
''I am compressing in positive Dark energy''
Then 'take' the dark energy from around you and inside you and start compressing/packing it into a ball inside you, the middle point where the ball is getting compressed into being right of your belly button, inside your body in the middle. Slightly below the kidneys. Pack the Dark energy into there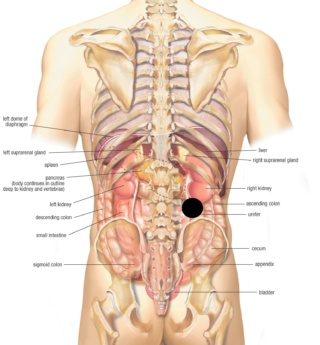 It is around there in the middle of the body.  Note that when it is packed in the correct position you should feel warmth where the Dark energy is and you should be able to see the packed energy.
At first, packed, it may be small – I initially made it into a small orb – but as you breathe in dark energy and try to compress it, it will get much much larger very quickly. It took about 2 or 3 days for it to go from the small orb like in the picture into a large asymmetrical oval ranging from the upper pelvis to the lungs, so it grows pretty fast keep that in mind.
Now, I personally put it to the right side of my body, you should be able to pack it into your left side as well but for me that never felt good. Eventually the compressed Dark is going to be all over the body anyway.
(See September 13th edit)
It felt quite uncomfortable keeping it in when it was all over my body so I had to let it go a bit and even now I keep it smaller as I can always build up the Dark energy back up very fast. Still if it feels more correct for it to be packed on your left side then go with that.
When done with the packing and you start working with Light energy again then the Light energy surrounds the ''orb'' but it will not enter the orb Also remember that the more Dark energy you have the harder it will be to pack eventually you may not be able to pack it at all.
Once you're done put the Dark energy out of your mind as even focusing on it can make it expand, which brings us to the next point. How do you open it?
It quite obvious really, you can either slowly expand it or explode it outwards. Remember that when you pack Dark energy in and go to work with light and then go back to Dark again, you will go through the same 'transition period' as written in Part 1 of ''Working with Dark Energy''  
Compressed Dark energy is one stubborn thing so put it out of your mind as well as you can. Keeping Dark inactive like this can be hard at first although as with everything it can be learned to live with. This is not an ideal thing or even a good thing to do but it helps. Do not keep Dark inside like this indefinitely it is only required if you want to work with Light energy.
That concludes the three main parts of the series. I'm sure I'll add new additions from time to time when I learn new things about Dark and I encourage anyone who follows these instructions to share their own experiences and new things they might have learned that were not present in the guide.
--
EDIT - 13th of September, 2018
After about a month of keeping dark active and compressing it, this time the dark orbs instinctively went to both sides of the body. This means that the orb can be indeed put on both sides of the body, although I still imagine it is up to personal preference. They are also no longer malformed, all over the place and are a perfect ovals the shape of what reminds me of an American football, a bit smaller though
*EDIT - 6th of October, 2018
When compressing dark and going back to light, think of it like saving you process but once you open it up again it takes a little while to ''warm up'' again. So for example: if you worked with dark and got to the point where you saw the dark energy inside you very clearly, then compressed it - for let's say 3 months - and opened it up again then you may not initially see the dark in you as well as you could that 3 months ago. Don't worry, you are still at the same level of advancement with dark you were when you compressed it, but it'll take a bit to warm up. just take it slow. It can take a week or a few weeks to get back to where you were. It's individual.
(I have a feeling like I've written this before... weird. If that is the case I apologize. Better to be sure though

)
*