this is helpful when you feels like you are having effects that caused by certain magic or curses and you suspecting someone did this to you. here a meditation to defense yourself against these.
1. At 11.00pm, do sit in yoga style in front of a mirror. have your right hand on your right knee and your left hand raise up at where your heart area is. then, make sure your left palm is facing the mirror, enclose and straighten your left hand fingers(see pictures below) and keep it close to your chest.
2. open your eyes, look to the mirror. now visualize your are a huge mountain that stand still peacefully on the earth. now, if you can visualize it, read the mantra below 7 times :
''Om Erna-Erna Peina Nanshiya Sua ra''
3. do this for 7 days, and you will be fine from the curses/some magic, and same time, if defenses you by sending unseen message to the person whom did sent the curse/magic that they are facing strong opponent and their magic or curses will lose its power against you.
Good Luck.
translated from source : http://wongalus.wordpress.com/2009/11/05/menghilangkan-kekuatan-pelet/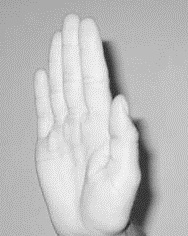 _________________
''Face your ultimate enemy, the ones named as Fear.''