you can make this charm to protect yourself from people whom threatened to kill you by sending deadliest curses. all you need is
1. 1 red wool.
2. 1 blue wool.
3. 1 green wool.
4. 1 white wool.
5. 1 black wool.
6. scissor.
1. now, cut a strand with length of 10 centimeters from each wool. you will got 5 wool strands of each color in a same length. now place these ropes lying next to each other on the floor.
2. sit in front the rope, put both of your hands above the ropes, and visualized a bright white light are coming out from your fingers and go through the wool strands. then, visualized a bright red light from your hands and absorbed into the strands. finally, visualized a bright blue light emitting from your hands and do the same thing to the colorful strands.
3. now read the following chant 18 times with full concentration, with your hands still above the wool strands:
"OM PADMAPASA HUM TISTA SOHA"
4. now you have finished and tied them in a ways you prefer, turns them into bracelet or to be tied to your hair. it serves as a powerful protection and you should not feels worry anymore with the curses or any other magic threat they going to sent for destroying you. it also recommended if you makes lots of it.
Good Luck.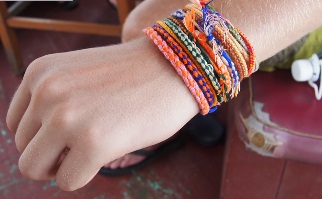 translated from source : http://belajarkebatinan.blogspot.com/2010/09/archive-for-december-2009.html

_________________
''Face your ultimate enemy, the ones named as Fear.''