Note
: All copyright and credits goes to someone being known as Lux Amore, collector of various Javanese and Balinese magical talisman and amulets that bring benefits in many aspects.
Inggu is believed to be a powerful protector of health. It also referred as a name to the most potent mystical medicinal plants in the world(Balinese beliefs). with the protection charm that borrow power from Lord Ingu, you will remain healthy and protected from all kind of diseases.
1. 1 piece of clean white cloth( recommended : napkin size).
2. black ink permanent marker.
1. Draw this charm upon a piece of white cloth with the black ink permanent marker.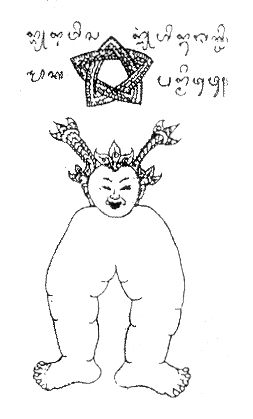 2. carry this protection charm with you all of the time and you will save from all diseases.
Good Luck.
source:
1. http://www.freewebs.com/cynthiasyarborough/talismans.htm
2. personal source(friend).

_________________
''Face your ultimate enemy, the ones named as Fear.''