we sleeps and we dreams. our dreams made of a mix between reality and fantasy, something that could be beyond our imagination, and some said dreams are reflections from our daily life. but one thing to be remembered is sweet dreams never going to last forever. most of us would likely to experience a state
''we are dreaming but we are aware during the dreaming state''
. this called as a Lucid Dreams but its not something to be fear about, it could happens to anyone.
Lucid Dreams, how its look like.
let's have an example a guy sleeping and have a normal dream of he playing with his bulldog. the dream happens until certain time, he felt himself 'awake' into reality, but presume he is still dreaming although he is aware about it. one signs of Lucid dreams is where some aspect from your dreams begin to manifest into reality, like this guy before, he begin to see his bulldog from his previous dream now flying across the room.
now if it with high level of lucidity, this guy will fully aware whatever happens(like the dog flying) and realized it is not real at all. he also would have full control over the dream where he can change or imagined it as he wished to happens. however, in low level of lucidity, realization will fade and he is not aware enough about it and begin to accept whole thing that happens as a reality. the dreams happened spontaneously or randomly where he had no control over it.
Lucid dreams and dark arts.
dark arts such as ritual, summoning/invocation, or any working type that associated with supernatural being (deity, entities, demons, etc) could also initiated lucid dreams. in many great religious epiphanies, the messages will came in the form of dreams, sometimes as the lucid dreams. this also applied in dark arts workings, where the desired effects/results could happens through lucid dreams.
in reality without sleep, our mind and body being used to the fullest capability, where all of our brains parts are workings and responding to daily events, giving less privacy for our spiritual/inner awareness to manifest and thus, unable to sense or connect to the beings after doing specific dark arts. but when we begin to sleep, the mind and body is at rest, and the spiritual awareness is becoming visible that we could easily affected with the presence of the supernatural beings, which usually bring us into lucid dreams state.
for example in some ritual of summoning succubus demons, you can sense or aware with their presence mostly during sleeping, sensing the demons and feels the sensation from the succubus although you fully realized at the time you were dreaming. we read some rituals that required us to slept immediately after commenced it, which can be concluded the demonic presences would likely to happens and they are easily to interacts with us during the dreams state. but kindly take note that, not all dark arts rituals or workings supposes to give you lucid dreams effects.
lucid dreams still can happens naturally or through others ways. one of the methods is by listening to ambient music before sleeps to bring the lucid dreams. although the only weakness is you wouldn't have any control over the dream that happens. the examples of the ambient music found to caused lucid dreams is in the following links that you might want to try :
http://inducingluciddreams.com/lucid-dreaming-music-very-ambient-galactic-track-relaxing-music-sleep-version-3/
http://www.soundclick.com/bands/default.cfm?bandid=126445
http://www.reverbnation.com/scapegoat777
remember that lucid dreams are not dangerous, instead it could be a wonderful thing that shouldn't be missed to be experienced.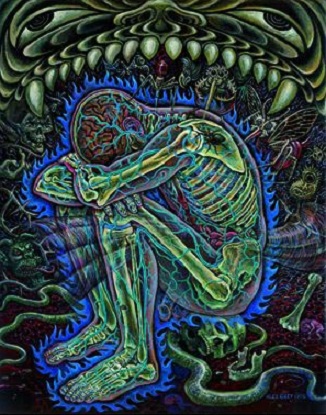 source :
http://parapsychology3.blogspot.com/2009/01/lucid-dreaming.html
http://www.dreamviews.com/content/what-lucid-dreaming-16/
http://www.soundclick.com/bands/default.cfm?bandid=126445