There are 5 signs to know if Succubus/Incubus had make a contact or try to have a relationship with us. this signs can happens
naturally
or
resulted through the rituals
committed.
some people whom have these signs by natural didn't realized its have strong connection with Succubus/Incubus whom tried to get intimate with them and thus, dismiss the whole matter as the nightmares or fantasies.
1. The sense of the presence.
We felt a presence of something next to us, but cannot see or hear anything. sometimes, this could happens along with sleep paralysis. Many of us have already felt this many times before but don't know what does it means. Eventually, this sign happened when the Succubus or Incubus tried to make a contact with humans whom they desired to be with.
2. Mental sounds.
Mental sounds happened when we heard our own voice speaking to us in our head for some time in our sleep. its keep saying things that we knew well we won't normally say or think. This is a very common way of contact and also goes unnoticed by most of us.
3.Mental Images.
Mental images appear as the pictures of our imagination that projected from the succubus/Incubus into our mental psyche. Again, like previous signs, it can go under the radar easily and be dismissed as our own fantasies. But, if we clear our mind and relax, we will be able to tell the difference between the fantasies images and the succubus mental projections.
4. Physical sounds and movement.
This normally occurs after the connection has been established and the Succubus/Incubus feels comfortable with us. These are physical signs such as moving objects, hearing voices that doesn't belong to us talking and any other physical phenomena that we can feel/sense around us, especially when we are sleeping. This kind of contact can be a bit scary at first, and usually happens after trust is created between you and the Succubus/Incubus spirit.
5.Physical touch/climax.
This happens when the Succubus/Incubus touches us. Being non solid they can stimulate our inner cells and bring us to a high state of ecstasy. we can feels invincible yet foreign touches all over our body, which become more intense at our private parts. it's feels like having a real sex. the sexual stimulation from Succubus/Incubus will bring us to Climax. However, this sign mostly occurred through the rituals.
Feeling of exhaustion, sometimes light headache or body aches after the encounter are normal, but they are nothing to be worried about, instead some people would care less about the side effects when they find the sexual experiences/relationship with Succubus/Incubus is more addictive compared to normal sex and would go on for some more.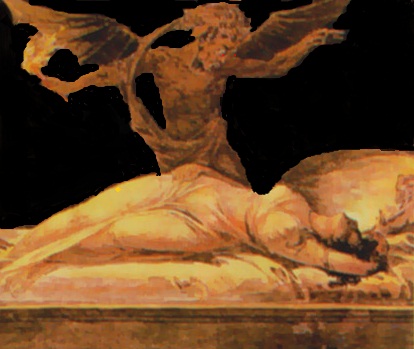 source :
Erik Vonroth
http://www.summoningsuccubus.com/succusummon